14 COMMON PROCEDURAL MISTAKES MADE IN FERC PROCEEDINGS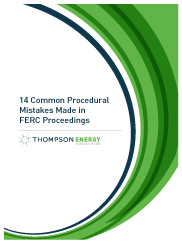 FERC has a unique set of procedural rules and precedent that apply to hearings and adjucations involving energy related industries. Don't run the risk of breaking these rules!
Understanding FERC's rules, and how the Commission applies them, is essential for participants in FERC proceedings because procedural mistakes can be costly, especially when they prevent further participation in the proceeding. This Thompson Energy whitepaper will go over 14 of the most common procedural mistakes made in FERC proceedings, provide an example and highlight the consequences of the mistake.