2017'S TOP TEN GRANTS DEVELOPMENTS
AND PREDICTIONS FOR 2018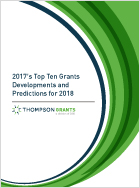 This past year has been chocked full of changes for the grants community that have had a definite impact on the day-to-day life of any grants professional. Read this free Thompson Grants whitepaper to get in depth analysis of the 10 most newsworthy grants events in 2017 and hear from our experts what they think you should be watching for in 2018.
Topics Include:
The New Administration
DATA Act Requirements
Grants.gov Workspace
And more!