9 TIPS TO HELP YOU PASS YOUR NEXT FDA INSPECTION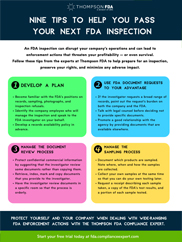 An FDA inspection can disrupt your company's operations and lead to enforcement actions that can threaten your firm's profitability — and sometimes its very survival. It's critical to know how to prepare long before an inspection takes place and to manage the inspection to preserve your rights and minimize any adverse impact.

Follow these nine tips from the experts at Thompson FDA to help your next inspection go as smoothly as possible.