DEA ENFORCEMENT REPORT: NEW PRIORITIES AND STRATEGIES IN RESPONSE TO THE OPIOID CRISIS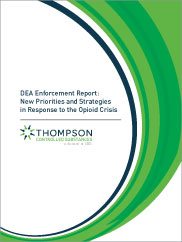 As the opioid crisis continues to devastate individuals and communities in the United States, the Drug Enforcement Administration (DEA) is responding vigorously by stepping up its enforcement activity — particularly targeting companies that fail to comply with the agency's anti-diversion requirements.
The DEA has said that it will use "all available tools to address this crisis at every level." The agency has wielded its criminal and civil enforcement authorities to hold noncompliant pharmacies, distributors and corporate officials accountable. It has shut down businesses, indicted companies and senior executives, and forced firms to pay millions in civil penalties.
This whitepaper, brought to you by the experts at Thompson Controlled Substances, tracks the latest DEA enforcement trends, analyzes important recent cases and settlements, and outlines the agency's new authorities under the recently enacted SUPPORT for Patients and Communities Act.