NEW, FASTER PATHWAYS TO MARKET FOR MEDICAL DEVICES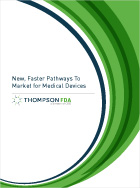 Through several recent initiatives, the FDA has offered ways to help speed new medical devices to market.
Developed by the experts here at Thompson FDA, this whitepaper outlines recent regulatory innovations at the FDA designed to help device sponsors get their products to market more quickly and easily.
Inside you will learn about:
The FDA's premarket review of breakthrough devices.
Parallel FDA premarket review and Medicare coverage review of new devices.
Streamlined marketing review focused on device quality.
A new 510(k) paradigm that allows the use of recognized consensus standards to establish substantial equivalence.
New pathways to market for digital health devices.
And more!