FROM GRANT-FINDING to PRE-AWARD TO POST-AWARD, WE'VE GOT YOU COVERED.
OPTIMIZE YOUR GRANT SPENDING AND MINIMIZE YOUR RISK - THE EASY WAY.
Request Your Thompson Grants 360 Trial Now To:
Access all of our Compliance Handbooks; including the Development Handbook, Grants Management Handbook, techniques for Monitoring Federal Subawards, and Single Audit Information Service
Be informed before anyone else with our news feature – access to best practices, recent headlines, helpful videos, and weekly news alerts
Use templates that you can customize such as budget worksheets, time and effort, risk matrix, and more
Have convenient access to all of the primary source material such as the Final Uniform Guidance document, Data Act, and latest Compliance Supplement
Ask the Expert when you are having trouble finding the answer
And more!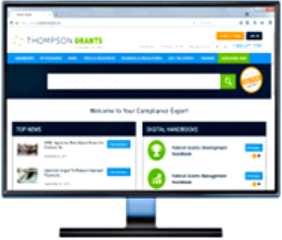 Trusted by Grants Professionals Like You
"This is want I want in a resource. With the sweeping changes, I need to keep up. "
- Finance and Grants Coordinator