NEW LABELING REQUIREMENTS FOR GMO/BIOENGINEERED FOODS:
THE NATIONAL BIOENGINEERED FOOD DISCLOSURE STANDARD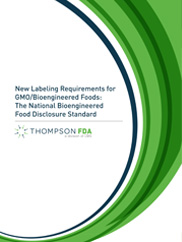 The National Bioengineered Food Disclosure Standard (NBFDS), established by a December 2018 final rule, sets a national mandatory standard for disclosing foods that are or may be bioengineered (BE), including foods produced from genetically modified organisms (GMOs).
The standard requires food manufacturers, importers and other entities that label foods for retail sale to disclose information about BE food and BE food ingredients.
This whitepaper, brought to you by the experts at Thompson FDA, offers a comprehensive analysis of this final rule, including its compliance dates, the requirements for different types of manufacturers, disclosure options, and more!