THE REVISED COMMON RULE: WHAT YOU NEED TO KNOW
RECENTLY UPDATED!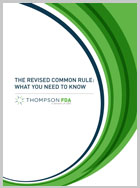 On January 18, 2017, HHS and 15 other federal agencies and departments released the much anticipated finalized version of the Revised Common Rule, the Federal Policy for the Protection of Human Subjects. Developed by experts here at Thompson FDA, this whitepaper offers a concise look at the things you need to know about the Revised Common Rule and its implications for the future of clinical trial regulation.
Inside you'll find:
A brief history on the Revised Common Rule and why the revision process was initiated.
An in-depth look at the 7 most significant changes and what you need to do to comply with them.
An overview of the significant changes that didn't make the final version.
And more!