SUBAWARD OR CONTRACT: WHICH SHOULD YOU USE? WHITEPAPER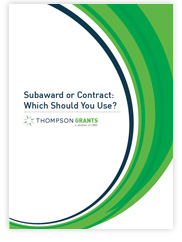 Fill in the information to the right to get your copy of our Subaward or Contract: Which Should You Use? whitepaper.
Effectively determining whether a third-party funding instrument is either a subaward or a contract is critical when ensuring the appropriate level of oversight.
You'll discover:
Funding trends
The role of a pass-through entity responsibilities
Selecting award instruments
The similarities between subawards and contracts
The Role of indirect costs
Principal purpose of funds
Subrecipient vs. contractor
And more!