THE GRANTS WORLD MOST LOBBYING FIRMS DON'T KNOW ABOUT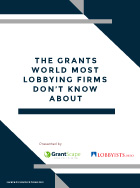 Clients of lobbying firms represent some of the largest grants recipients in the United States, and most only have a tenuous awareness of this fact. Some lobbyists may have an idea that their clients are recipients of grants, but do not realize the extent to which grant monies are vital to their clients' mission. Firms now live in a post-earmark world, so to counter this, many firms have begun expanding their range of services to make up for the shortfall.
To help arm lobbyists with greater understanding, we leveraged data from three of our CBIS business divisions, Thompson Grants, Lobbyists.info, and Association Trends, along with USAspending, to give a broad understanding of lobbying clients that receive grants. This information may help lobbying firms assess the importance of providing grants-related services as a part of their client offering.