UNDERSTANDING THE DE MINIMIS
INDIRECT COST RATE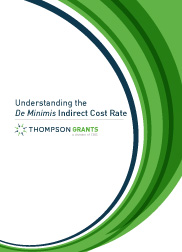 When the Office of Management and Budget (OMB) issued the uniform guidance on December 26, 2013, it sought to ease some of the administrative burdens faced by grant recipients (in particular smaller, first-time awardees). One key element of the uniform guidance was the introduction of the de minimis indirect cost rate. Still, several years later, recipients remain somewhat confused about whether they qualify to use the de minimis rate, how long they may use it and how to apply the rate to subrecipients.
This whitepaper, brought to you by Thompson Grants, will address this confusion by providing a comprehensive overview of the de minimis indirect cost rate and to clarify answers to frequently asked questions presented by the recently disbanded COFAR in a document shared by the United States Chief Financial Officers Council.
Inside, you'll receive an in-depth look at:
The four different kinds of indirect cost rates addressed in the uniform guidance
Two types of cost (indirect and direct) and their individual allowabilities
Common areas of confusion surrounding the de minimis indirect cost rate
And more!